Nintendo Direct is back, complete with giving the eShop more videos and demos.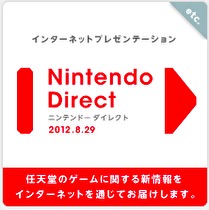 Today was the latest Nintendo Direct conference in Japan, so naturally, Nintendo felt it necessary to release lots of new video content. Even though there was tons of new content to wade through, I did manage to spend some time with the Virtual Console release this week, Ninja Gaiden. Check out everything that was released below!
3DS Downloadable Titles
Simple DL Series Vol. 4 THE Misshitsu kara no Dasshutsu – Nangoku no Resort-hen – 500 yen
Kemono Mix +(Plus) – 300 yen
Rhythm Hunter: HarmoKnight DEMO – FREE
Sengoku Musō Chronicles 2nd (Samurai Warriors Chronicles 2) DEMO – FREE
Medalot 7 DEMO - FREE
Boku wa Kōkū Kansei-kan Airport Hero 3D Honolulu DEMO – FREE
Virtual Console
Ninja Ryū Ken-Den (Ninja Gaiden, Famicom) – 500 yen
Kirby no Pinball (Kirby's Pinball Land, Game Boy – 400 yen
Video Content
The entire Nintendo Direct conference in it's entirety is available to view streaming on the eShop. There are also smaller broken down bits for Bravely Default, EX Troopers, the new Layton game, Tomodachi collection and more. There are also two downloadable 3D videos for Bravely Default and Project X (Cross) Zone. You can check out the latest Nintendo direct in the video below.
There are a couple of other videos as well. A streaming 2D video shows off Kemono Mix Plus, or Beast Mix Plus. The video is a little under a minute long and shows how the game allows you to mix two different creatures together to become one. There is also a 3D streaming trailer for the upcoming Lost Heroes, a crossover game that features Ultraman, Gundam, and Kamen Rider in an RPG adventure. The latest trailer shows off the battle system, which puts four characters on a team versus and enemy. Some characters can even perform special "crossover" moves that deal quite a bit of damage.
Software Impressions
Having a Nintendo Direct is always a very exciting prospect in Japan, especially with all of the content that is usually delivered to 3DS users via the eShop. Looking past the excitement, I went ahead and downloaded this week's big Virtual Console release on the 3DS: Ninja Gaiden. I don't know about all of you out there, but in the early '90s, my brothers and I would always rent the Ninja Gaiden games for our NES. I have some pretty good memories of it. Not necessarily of how difficult it was, but just memories of controlling a cool ninja character that could cling to walls and cut people and creatures alike with his sword.
While I bought the game on the Wii Virtual Console upon its release, I really didn't play it too much for two reason: 1.) I'm awful at the game, and 2.) if you haven't noticed, it's kind of a hard game! This time around, though, thanks to being on the 3DS Virtual Console, we now have the option to used the save state feature. For a difficult old school game like this, this is a complete god send. I've been playing a little bit of the game today and have spent plenty of time getting destroyed by enemies. Controls are great and killing enemies is satisfying. For me, this is one of those games that is well suited for a Virtual Console release on the 3DS. I like old school action platformers and the ability of the save states helps to somewhat alleviate my frustrations with the difficulty. Keep your fingers crossed that this game will come out in the West. Unfortunately, you might be waiting quite awhile.