From the creators of Famicast 15: the sequel you've all been waiting for. Probably.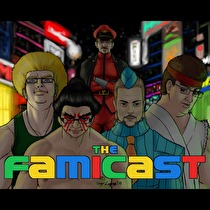 Subscribe via iTunes (Please rate and review, too!)
Isn't it great when a sequel comes out a week afterwards? Well, not if it's a $60 game, but for a free podcast, we'd certainly hope so!
The Famicrew finished up episode 15, put their microphones back in the drawer for another month, and started to enjoy their summer break – but Satoru Iwata had other plans! Nintendo Direct hit, containing all sorts of juicy news and release dates. But it's not that just the Nintendo Direct conference was held, others were announced and a whole Twitter-storm of news descended over Japan at the same time.
Thankfully, Team FC are on the case to bring you clarifications, analysis and future megaton predictions! We also start the hype-train for Tokyo Games Show. Just how long will Danny have to line up for Monster Hunter this year? Place your bets now!
As an additional bonus we've also squeezed in a special Dragon Quest X segment with Matt Walker, who has been playing the game since launch. Listen and learn about the many unique features of the game and how it unlocks hardware features of the Wii you didn't know existed!
So listen in. You're sure to have a Super Magnificent (TM) time!