An extended edition of the Famicast, recorded a few days before the sad news of the passing of Satoru Iwata.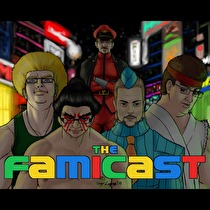 Subscribe via iTunes (Please rate and review, too!)
Note: This episode of the Famicast was recorded several days before the untimely passing of Satoru Iwata. This sad news will be discussed in a future episode of the show.
-3 hour long show-

-New business

Danny - Rhythm Tengoku The Best Plus, DBZ: Extreme Butoden
Sairus - Splatoon, Smash Bros.
JC - Batman Arkham Origins, Super Mario 3D World, Smash Bros
Ty - Smite, Borderlands, State of Decay

-New Releases
-Charts
-News
-Fake or Real
-Listener Feedback / Twitter
-Amiibo Giveaway

This podcast was edited by Danny Bivens.
Music for this episode of The Famicast is used with permission from 8 Bit Weapon. You can purchase their music and shirts from their website 8bitweapon.com
Additional music for this episode of The Famicast is copyrighted to Nintendo, and is included under fair use protection.
The artwork for the show was designed by Tony Losoya, follow him on Twitter @Tony_Losoya