by Daan Koopman - 10:31 am EDT
Total comments: 4
Sorry guys, I need to check my notification tray. I will be right back.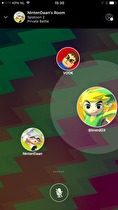 The Nintendo Switch Online application is out. As the official way to interact during Splatoon 2 sessions, Nintendo had a lot riding on it. Would it be anything of note? After testing it for a while, I think that SplatNet 2 adds certain benefits but the same can't be said for its online voice chat functionality.
Read more...