Slowly but surely, Pokémon Shuffle has become one of Neal's go-to 3DS games.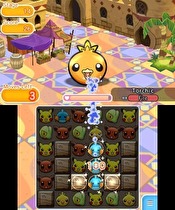 I didn't think much of Pokémon Shuffle when it was announced. After playing Pokémon Battle Trozei last year, I thought my desire for a Pokémon-themed puzzle game was satiated. I also thought I had zero interest in the game's potentially shoddy free-to-play mechanics. More than 10 hours of puzzling later, I'm surprised at how much I'm enjoying Genius Sonority's stab at free-to-play puzzling.
I have yet to spend a dime on it, but I've been relishing my experience with Pokémon Shuffle. It's a laid-back puzzle game (for the most part) that is ideally played about five rounds at a time (which is the highest amount you can get to without StreetPassing or paid jewels). At this point, I spend about 15 minutes each day playing a few rounds of Shuffle before I play other games. I'm slowly capturing Pokémon (just crossed 100 this week) and I'm working my way through the game's later levels while occasionally going back to capture the creatures I missed before.
The Main mode definitely has some heinous stages, especially the ones that seem like they bait you to fail the first time around, essentially requiring specific Pokémon or a distinctive strategy, but on the whole, each level is fair. The lack of a time pressure for each move makes it more contemplative, letting you come up with the best move.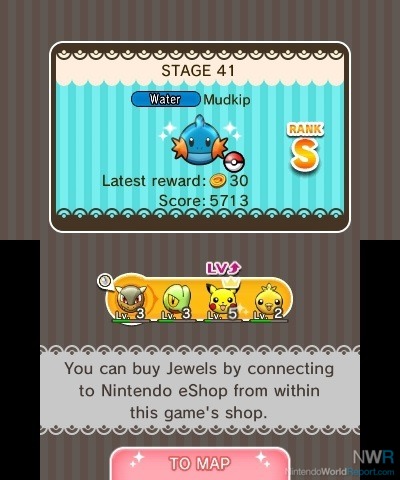 However, the Expert stages buck that trend with a time limit. I actually find those stages to be the worst in the game. They feel like they use a lackluster version of Battle Trozei's already mildly busted mechanics. It's all about quickly making combos regardless of any strategy. It seems after each completed match, you can quickly move pieces around to set up another match and so on and so forth. Simply, this isn't my favorite style for these games.
Still, even if I don't like the Expert stages, the Main mode is deep and challenging. At the end of the day, I've spent $0 on a game I've spent 10 hours and counting on. It's been an enjoyable experience and as long as Nintendo and Genius Sonority keep updating it, Pokémon Shuffle could be in permanent rotation on my 3DS. Who knows, maybe I'll even crack and spend money on it.