Danny, JC and Sairus discuss Amiibo hats, our celebrity status in Japan, and the end of days.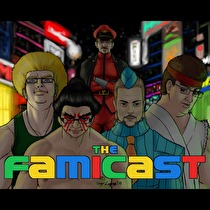 Subscribe via iTunes (Please rate and review, too!)
It's time for your LIVE episode of the Famicast, coming at you LIVE from Japan! Except now it's not live, so we uploaded it to iTunes and YouTube for you to listen and watch whenever you feel like - how cool is that!?
Before they tackled the megaton news, the Famicrew talk new business, which includes a brand new Metroid game on Wii U! Well, new to the Wii U anyway. It's Zero Mission, and JC thinks it's rather good. Danny is still busy with his so called "wedding," but he still found time to get lost in Termina. Sairus wraps things up with some impressions of the Theatrhythm Dragon Quest demo which recently hit the Japan 3DS eShop. This inspires the whole crew to go on a massive tangent about music games on Nintendo systems. Donkey Konga anyone?
After a brief bit of news trolling, the main event begins. The "DeNA cross Nintendo super ultra megaton end-of-Nintendo-and-videogames-as-we-know-it" event sparks a fairly balanced discussion from the guys. There is both excitement and anxiousness from Iwata-san's announcements, but the consensus seems to be this could lead to good things (hopefully).
So grab your Amiibo and a bucket of gold paint and get ready to dive into another zany episode of your favorite*Japanese Nintendo podcast!
This podcast was edited by James Charlton.
Music for this episode of The Famicast is used with permission from 8 Bit Weapon. You can purchase their music and shirts from their website 8bitweapon.com
Additional music for this episode of The Famicast is copyrighted to Nintendo, and is included under fair use protection.
The artwork for the show was designed by Tony Losoya, follow him on Twitter @Tony_Losoya