Neal decided not to pre-order any Amiibo. Here's his report from the retail trenches as he tries to catch'em all.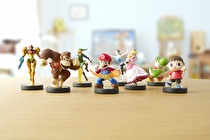 When everyone was pre-ordering Amiibo a few months ago, I sat idly by. It wasn't that I didn't want the Nintendo figures; it was more that when I got them, I wanted to experience the thrill of going into a store and seeking them out. Instead of just waiting patiently for an Amazon package to arrive in the mail, I desperately wanted to experience the thrill of the hunt. That's how I found myself plotting out a lunchtime sojourn around every retailer in the area of my office.
I did have the fortune of starting ahead, however. Since I reviewed Super Smash Bros. on Wii U, Nintendo sent Mario, Kirby, and Link Amiibo alongside the review copy. So let's add three to the counter.
Stop Zero Report: 25% (Started with Mario, Link, Kirby)
My first trip was to a GameStop nearby my home. The store was having a midnight launch so I figured I'd show up at like 11:30 and see what Amiibo they had left. For those who haven't been to a GameStop midnight launch, they are incredible now. The stores open at around 10 p.m. and you can hang out inside. There were two TVs set up with Brawl for people to play for this Smash Bros. launch. It was also a StreetPass haven. When I went to this same GameStop for Madden in August, they even had pizza and soda for all who waited.
But here's the important news: this GameStop had five Amiibo in stock. Unfortunately, one of them was Kirby, which I already had. So after one stop, I added Fox, Samus, Donkey Kong, and Pikachu to my collection. I was already more than halfway there.
Stop One Report: 58% (Added Fox, Samus, Donkey Kong, Pikachu)
The next morning I figured I'd hit Wal-Mart on my way to work. It was the only place open very early and it was also a convenient stop. So, about an hour after the store opened, I strolled into the monolithic store. Heading back to the games area, I saw a setup for Amiibo completely barren. Poking my nose around, I saw a bunch of loose Donkey Kongs snuck in with Skylanders. Then, I saw the line about 20 people deep by the Electronics cash register. These people were waiting to get Smash Bros. and Amiibo. I saw Mario and Peach figures by the counter, but despite not having a Peach for my collection, I figured I'd skip the line and instead wait for my lunch break to scope out a wide swath of stores.
Stop Two Report: 58%
My nextstop, during my lunch break, was Toys"R"Us. For those not in the know, Toys"R"Us is having a 3 for $30 deal on Amiibo right now. However, Toys"R"Us being Toys"R"Us, all of their Amiibo are a dollar more expensive. So it's still a good deal, but c'mon, gang. That's awful. Anyway, Toys"R"Us was a great start to this lunchtime saunter. I was able to get Villager, Yoshi, and Peach. When I asked about Marth and Wii Fit Trainer, the clerk looked at me weird. Then he walked over to the Amiibo area and was just like, "Man, I don't know." Then I proceeded to look through a shopping cart filled with Amiibo they hadn't put on the shelf yet. No Marth or Wii Fit Trainer.
Stop Three Report: 83% (Added Villager, Yoshi, Peach)
While plotting out the next stop on my lunch route, I noticed there was a Target and a Best Buy right next to each other a little farther away (but in the direction of the Toys"R"Us). So, I decided to journey to this undiscovered land. It looked promising as the Target was one of those super gigantic ones. Walking into the Best Buy first, I wanderedover to the Amiibo area. It was empty. A Best Buy employee intercepted me. "You looking for the Nintendo figures?" he asked.
"Yes," I responded. "You guys sold out?"
"No, we never got any." We shared a mutual glance of 'you have got to be effing kidding me' and then he followed up. "You're like the fifth person that's asked so they must be popular. We never got any. We might get some this weekend."
I thanked the man for his time and bailed. I didn't have time to waste on this nonsense.
Stop Four Report: 83%
I walked to the Target next door. Marching straight to the electronics section, which was about a half mile from the entrance because this was a huge Target. They had nothing set up for Amiibo. I asked an employee and he cut me off before I could finish: "Nah we didn't get any in."
Stop Five Report: 83%
Disappointed, I went back to my car. I took a risk going to an unfamiliar area and it backfired. I only had limited time left in my lunch break, so I decided to tear ass back to the Best Buy down the road from my office. At the very least, I'll maximize my time and leave almost no stone unturned. Luckily, the Best Buy actually had Amiibo in stock. I found the last Wii Fit Trainer and then poked around for a Marth. An employee walked over. "Do you have any Marth Amiibo?" I asked.
"Who?" he responded.
"Marth. One of the Nintendo toys."
"What we have out is what we have."
Stop Six Report: 92% (Added Wii Fit Trainer)
I made one final stop, to the website of each major retailer. I checked to see if there were maybe any nearby stores I missed or any kind of in-store pickup for Marth. I found one on Target's website and placed an order. The particular Target is on my way home from work. With this simple stop at Target, I now own all of the Amiibo. I beat the Amiibo.
Wait, what? There are six more in December? And then 11 more in February? And some of those are retailer exclusive? Uh-oh...
Stop Seven Report: 100% of Wave One (41% of all currently announced Amiibo)