The iconic princess will offer a nifty unlock for owners of her NFC figure.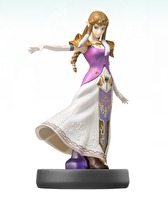 Nintendo has revealed how the Zelda amiibo will function in Hyrule Warriors.
Those who own the plastic princess will be able to unlock a weapon with a rating of at least three stars by tapping the toy to the Wii U GamePad's NFC reader. Meanwhile, tapping any other amiibo will get you a either a weapon rated three stars or lower, a crafting material bonus, or a rupee bonus. These functions can both be used once each day.
It was previously revealed that tapping the Link amiibo to the GamePad will unlock the the Spinner from The Legend of Zelda: Twilight Princess. A software update for Hyrule Warriors, coming at the end of November, will add these amiibo features.