We have solidified release dates for Kirby's Pinball Land, Wario Land, and more a month in advance.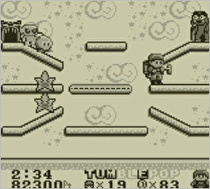 Nintendo of America dropped some Virtual Console knowledge during last week's Nintendo Direct: during the month of July, every week will feature two Virtual Console releases. Hell, they even gave release dates for six games!
That's right. The company that released two 3DS Virtual Console games in the first five months of the year is promising 10 in one month. In case you missed it, here's the list of games coming out:
The Legend of Zelda (NES) - July 5
Kirby's Pinball Land - July 12
The Sword of Hope II - July 12
Kid Icarus: Of Myths and Monsters - July 19
Tumblepop - July 19
Wario Land: Super Mario Land 3 - July 26
Sonic Blast
Sonic Labyrinth
It truly is a wonderful thing to see a release slate for the eShop, especially Virtual Console. The majority of my personal beef with the eShop is that the silence usually hints at one of two things: that no one gives a crap, or that something wonderful is brewing. Unfortunately, the former is the predominant thought among most fans.
Nintendo of America's 8-Bit Summer makes this hollow guessing game a non-issue. We know that The Sword of Hope II is hitting on July 12. We know that, after months of waiting, Wario Land is coming on July 26. Do we all want these games yesterday? Of course, but knowing that they are coming makes everything a lot better.
I have no problem with waiting; I just want to make sure I'm waiting for something worthwhile. I hope that this kind of planned schedule is a recurring thing and not a one-time deal. Still, I'm glad that 8-Bit Summer makes July more interesting, as if it needed it, with Theatrhythm, Rhythm Thief, Heroes of Ruin, and Kingdom Hearts 3D all coming out. It's a damn good time to own the 3DS, guys.
Also, in case you were wondering what The Sword of Hope II is (I was). It's a Kemco-made Game Boy RPG that came out in Japan in 1992 (and 3DS VC earlier this year) and only made it to North America in 1996. It's a super old-school RPG that has more in common with Dragon Quest and Shadowgate than Final Fantasy. Apparently for an old school RPG on the Game Boy, it's pretty good.