Both games get new home screen icons and restore points in North America.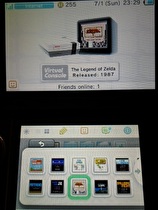 The Legend of Zelda and NES Open Tournament Golf, both NES games, have updates on the eShop that add restore points and the NES/TV icon in North America. As both games are currently only Ambassador games, the update is only available for 3DS owners who took their system online before July 2011.
To get the update, go to eShop, and then go to "Settings / Other." From there, go to "Your Downloads" and then look for The Legend of Zelda and NES Open Tournament Golf and select update.
The Legend of Zelda is set to get a full release on the 3DS eShop this Thursday as part of Nintendo of America's 8-Bit Summer. It is likely that NES Open Tournament Golf will also be released this Thursday since it is getting the update.
In North America, the only Ambassador games to get these updates are Super Mario Bros., Metroid, and Donkey Kong Jr. Europe has received The Legend of Zelda update, but not the Donkey Kong Jr. one. In Japan, the aforementioned games have full releases in addition to Zelda II: Adventure of Link and Ice Climber.