Genesect and Mega Mewtwo are waiting! FIVE DAYS ONLY!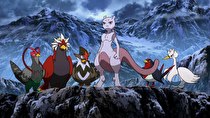 On November 16th and 17th, Hoyts Cinemas will be screening the 16th Pokémon movie, Genesect and the Legend Awakened, in select venues across Australia. Being the awesome guys that they are, Beyond Home Entertainment have given us FIVE double-passes to see the movie for free!
If you want to catch the latest cinematic adventures of Ash in the Unova region, the contest is super easy to enter. All you need to do is take an interesting photo of anything Pokémon related, and post it to our Facebook page with a note about the contest in the description. The five pictures we like the best will each win one double-pass to be redeemed at your nearest participating Hoyts cinema in Australia. See our related news article for session locations.
Hurry! Due to very short notice, we have to close entries by midnight on Tuesday November 12 Australian Eastern Standard Time to give us enough time to notify the winners. Passes will be mailed out via registered express post the following day.
Here are the rules and instructions - they're boring but necessary.
1. To enter, head to our Facebook page (link above) and post a picture of anything Pokémon related. It could be something cute, funny, clever or entertaining. A drawing, a picture of your plush toy collection, a cosplay photo, a snapshot of something strange in one of your games, anything! Just try to make it interesting.
2. Photos containing adult material or profanities will not be considered for prizes.
3. The contest is open to our Australian readers only.
4. Be quick! Deadline for entries is Tuesday November 12th, 2013, midnight EST.
5. Winners will be contacted via email by Wednesday, November 13th, and must respond within 24 hours to allow us ample time to mail the tickets out. Tickets will be sent via registered post.
6. The winners are chosen at the discretion of the judges and are not open for review.
7. The prize for the (five) best entries is one double-pass to see Pokémon The Movie: Genesect and the Legend Awakened each, to be redeemed at a participating Hoyts cinema during the promotional screening period.
8. All entries become property of Nintendo World Report to use without permission. Entries may be submitted to Beyond Home Entertainment for display on their website as seen fit.
9. Nintendo World Report reserves the right to change the rules at any time, without advance notice.