A remake of a three-year-old game? Fine, go bananas!
Being a Nintendo fan, I know the company likes to unearth classic games to rerelease in the form of Virtual Console ports or remakes. With Donkey Kong Country Returns (DKCR), Nintendo does not need to do any unearthing, because the game is still on store shelves!
Remaking DKCR is a silly idea in some aspects, but a good idea in others. While some may count this as a port, I call it a remake (call it whatever you like). But before you go ape shit (get it?) reading this, I think we can all agree that this game is not old. Released in 2010, it is still widely available for purchase. You can also play it on the Wii U. Considering these factors, I would say DKCR does not require a remake.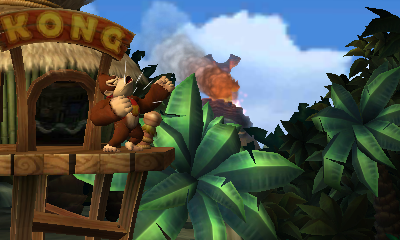 One feature of this new version that might be regarded as an improvement is the lack of motion controls. The original DKCR sported waggle controls that were awkward in many people's opinions. Their absence may be used as a defense for the new game, but don't all great games have their flaws? If we go by this reasoning alone, shouldn't every waggle-fest be given a second chance? OK, maybe not every waggle game matches the quality of DKCR, but is this one fix enough to get people to buy it?
Popular opinion of the 3D feature is also mixed, so using it as the main reason for the remake may not be a good idea. Some may argue that 3D was the biggest draw for Ocarina of Time 3D, but that game also came with a complete graphical overhaul, which is something that DKCR does not need. It also came out at a time when 3DS releases were sparse and the Zelda 25th anniversary celebration was in full swing. At this moment in time, I just don't think DKCR 3D has such a compelling set of reasons to be made.
I'm not saying the game will be bad, and I'm not even saying I won't buy it. The point I'm trying to make is that I can think of better ways Nintendo could allocate its resources, and that whatever this version costs is a waste.