Find Mii? Meh. I'm all about the Puzzle Swap.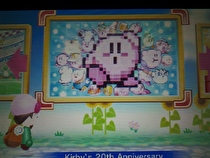 At this point, StreetPass has been a part of my everyday life from more than a year and a half. I might not pass by people constantly, but I am fortunate to live in an area where I have a great StreetPassing community (StreetPass Princeton Represent!), and the chance to run into a random person every now and then. The one thing I look forward to with StreetPassing has remained consistent for almost a year: new puzzle pieces.
After getting the Kirby hat in Find Mii, I lost interest in getting more hats. Losing interest in getting hats makes the endless replaying of Find Mii 2 pointless and time consuming. Not even the ridiculous NES hat drives me forward, because the Kirby hat looks like my Mii has a pair of balls on top of his head. And that has yet to get old for my juvenile self.
What I look forward to is when I have a new puzzle. Today, I received the first piece of the Kirby's Return to Dream Land puzzle. Sure, it's from a game I wasn't crazy about that came out a year ago. I don't care; it is a new puzzle. For me, the reward is so tangible since you get to see a neat, sometimes-interactive 3D picture. After getting my first piece, I spent the next 15 minutes or so burning through 100 Play Coins to get as many pieces as I could (23 out of 40 so far). I'll likely spend another 15 minutes later today going through another 100 trying to get all of the regular pieces.
After getting all the puzzle pieces for the previous two puzzles last month, I have a reason to be excited for StreetPassing again. I'll seek it out and stop leaving my 3DS at home. I am no longer the white whale that people can pilfer puzzle pieces from (you're welcome, folks I StreetPassed at New York Comic Con). I am imperfect, scouring for those final few puzzles before my 3DS XL is whole again.
How do you use StreetPass? Are you a Find Mii fiend? Or are you like me and just freaking love puzzles? Sound off in the Talkback below!