Or: One quick way to irritate Andrew.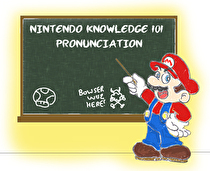 It's not uncommon to come across some ambiguous names throughout Nintendo's many franchises, and some of them can be quite hard to pronounce given their obscure spelling, especially since many of them are derived from another language.
That said, it's one of my pet peeves to hear something heavily mispronounced over and over, but often if someone's lingual mutilations are politely pointed out to them, they'll fly into a rage and angrily defend said errors.
As a language teacher and holder of a LOTE certificate in Japanese, I feel I have at least a reasonable understanding of how these names are intended to be pronounced.
I've put together a small guide to help nudge people in the right direction. This is in no way intended to insult anyone, simply to help and educate. For anyone who's familiar with the phonemic alphabet, I've included the pronunciation there to help.
SUPER MARIO SERIES:
Mario – mɑ:rɪəʊ (MARket, shIp, Open)
This is surprisingly one of the most common mistakes I've heard. Even after hearing "It'sa me, Maaario!" so many times over the years, people still persist on pronouncing his name as "marry-oh". The name actually comes from the legend of the Roman god Mars. On top of this, his name is identical in Japanese as it fits perfectly into the language's phonetics and can easily be written in Katakana.
Lakitu – lɑ:ki:tu: (LAh, KEY, TWO)
This one's open to interpretation. Lakitu's name is actually Jugemu in Japan, which is a reference to an ancient folk tale about a baby with a ridiculously long name. Read the story here!
It was actually one of the early translators from Nintendo America who decided on this name, and the reasoning behind this remains a mystery to this day. I however feel that they intended the name to sound a little Japanese, in which three-syllable names often have the stress on the middle syllable if it ends in an i. LahKEYtoo. I've also heard it pronounced "lackey-too" but in my personal opinion that's a difficult, unpleasant way to say it.
THE LEGEND OF ZELDA SERIES:
Almost all names in the Zelda games are direct translations of their Japanese counterparts, and as such the language carries over perfectly. Stalfos, Rope, Like Like, Goron, even Link himself have the same names in Japanese as they do English. If you want to hear some examples of the names being said out loud, watch the E3 videos, especially the first Skyward Sword gameplay demonstration. It would therefore be fairly accurate to assume the Japanese pronunciation is the intended one.
Ganondorf – gænəndɔ:f (GAllon, NUN, DOOR, F)
Epona – epəʊnɑ: (Epic, POstman, NArnia)
Deku – deku: (DEad, KOOpa)
Contrary to popular belief, this is not "dee-koo". The singular e denotes an "eh" sound. Think about it like this - "The Deku tree is dead." Unfortunately in a recent episode of Nintendo Show 3D, host Jessie Cantrell herself mispronounced the word, imaginably spreading a false impression to many viewers who don't know any better.
Zora – zɔ:rɑ: (Z, OR, Ah)
Gerudo – geru:dəʊ (GEt, RUde, DOughnut)
The stress here is on the middle syllable, as mentioned before. GeRUdo.
Kotake and Koume - kɔ:tæke and kɔ:u:me (COrk, TArp, KEttle) (COrk, lOOp, MEtal)
The two witch bosses from Ocarina of Time and several other games.
I could go into detail about the names of the sages, or random side characters, or more enemies, but it's pretty clear – learn Japanse phonetics and you'll never be confused with a Zelda name again.
To be fair, there are a few instances where characters have had a slightly different name in Japanese.
For instance, Tatl and her brother Tael from Majora's Mask were named "Chatto" and "Toreiru", which seems to stem from "Chat" or "Chatter" and "Trail", maybe a reference to how little Tael speaks as opposed to his sister...
METROID SERIES:
Samus Aran - sæməs ærən (SAlmon, MUH, S, - Apple, RUH, N)
I've heard all kinds of weird pronunciations here. "Same-us", "Sa-moose", "Orion", "Erran", the list goes on. The easiest way to remember is that you could easily call her "Sammy" and nobody would look twice at you.
Please keep in mind that these are simply my personal opinions (except that first one. Get it right people!) and some future in-game content may prove me to be completely off. King DeDeDe in the Kirby series was "deh-deh-deh" in Japan and it was assumed to be the correct pronunciation, until Super Smash Bros Brawl called him "dee-dee-dee". If HAL themselves say their character is pronounced deedee or dehdeh or even dopedope I'm obligated to believe them.
I personally blame 4kids and their horrible handling of the TV show in this particular case. Fololo, my butt!
Nonetheless I stand by my opinions and I feel they best represent the characters, and if nothing else I hope my semi-educational rant has been entertaining.
Now, class; For homework I want you to go out and have gaming conversations with 20 people, even if they are game store clerks, and see how many oddly pronounced words you come across.
Yeah, I drew that 5-second sketch of Mario. Like it?