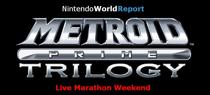 The review copy of Metroid Prime Trilogy is in, and in celebration we will be trying to dash through as much of the Trilogy as possible.
We will be taking live calls via Skype, and will hopefully have a few extras helpers to keep this party going for 48 hours straight... or even longer!
Please tune in and join in the fun! There will be a live chat available and a nightly contest where we'll be giving away some random Wii strategy guides and a Virtual Console copy of Super Metroid to finish out the weekend.
UPDATE (8/21):

Alright, we won't be going 48 hours straight, but unlike the Zelda Marathon, we are going to keep to a strict schedule.
All times are EST
Friday:
6PM - Begin Marathon
9PM - Call In Question: What is your favorite Metroid game?
11PM - Live Trivia Contest
2AM - End of Day
Saturday:
10AM - Begin Day
2PM - Call In Question: Who/What is your favorite Metroid character?
5PM - Contest #2: Stump Zach Miller
9PM - Call In Topic: Describe your ultimate Metroid game
2AM - End of Day
Sunday:
10AM - Begin Day
2PM - Call In Question: What game would you change in Metroid series and how?
5PM - Super Metroid (VC) Giveaway
TBA - End of Day
I urge everyone who has an interest in participating to download Skype. It's how we will handle on-air communication, and it's totally free. We'll be taking calls the whole time we are playing and we will have appearances from various staff members throughout the weekend, including the RFN cast!
Just as last time, we will also feature a live chat via IRC right below the live broadcast, so please join in there and chat with fellow viewers!
Protocol to call in is as follows:
First send a chat message to the handle nintend0nick (that's a zero in there). I will then initiate the call from my machine and I will broadcast our call live. We can talk about anything (Video Game or Site Related, of course), just use the initial chat message to describe the topic of the call.
UPDATE (8/23):

Thanks for tuning in everyone, the weekend was most definitely a success! Please leave us feedback on what you enjoyed/disliked so that we can improve future marathons.
Over the course of the week we are going to be completing Echoes and possibly Corruption. If guys are interested in us broadcasting them, please also let us know in the feedback. If there is enough demand, we will certainly do just that!
If you have any questions at all, please feel free to ask them in the Talkback forum thread!
Your browser does not support iframes.