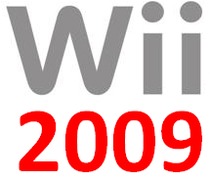 With just a cursory look, I managed to identify over thirty games that I had interest in with release dates planned for this year. The list in no particular order:
House of the Dead: Overkill
MADWORLD
The Conduit
Muramasa: The Demon Blade
Wii Sports Resort
Sin & Punishment 2
New Play Control! Series
Little King's Story
Boom Blox Blast Party
Punch-Out!!
TMNT: Smash Up
Sonic & the Black Knight
Tenchu: Shadow Assassins
Onechanbara: Bikini Zombie Slayers
Marble Saga: Kororinpa
Final Fantasy Crystal Chronicles: Crystal Bearers
Final Fantasy Crystal Chronicles: Echoes of Time
Major Minor's Majestic March
Ghostbusters: The Video Game
Guilty Gear XX Accent Core Plus
Roogoo
Mini Ninjas
Cursed Mountain
Indiana Jones and the Staff of Kings
Arc Rise Fantasia
No More Heroes: Desperate Struggle
Overlord: Dark Legend
Deadly Creatures
Let's Tap
Spyborgs
Of course, this list doesn't even begin to cover the various WiiWare titles that are en route to the service this year. While I wouldn't expect everyone to be excited about every title on the list, there is undoubtedly a flood of solid titles planned for the year. As the year rolls on, I expect the list will grow immensely, with an equally solid 2010 lineup to follow.