Four players make Kirby platformers fresher in this 2011 Wii game.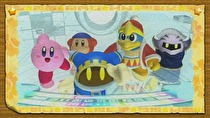 We're now in March 2018, so that means Kirby Star Allies is now due out later this month. In advance, we're going to look back at the Kirby series, specifically the last 10 years of games.
This time, we're looking at Kirby's Return to Dream Land, the closest relative to Kirby Star Allies. This 2011 Wii release featured four-player co-op and was also the long-awaited console return of traditional Kirby platforming. We even touch on the game's troubled development history spanning years.