Kelton joins John for some fresh takes on Breath of the Wild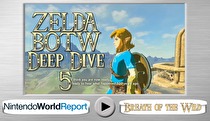 The new trailer for Breath of the Wild is, in a word, epic. That being said there is obviously a lot of information tucked away in every corner. With that in mind John and new(ish) staff member Kelton dive in to see what they can uncover.
Don't forget to subscribe to NWRTV so you can get videos like these as soon as they go up!