I'm sure this won't be contested at all.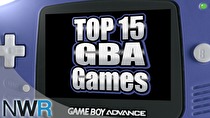 This list was made possible by our supporters on Patreon. If you'd like to join them in making fun lists like this, check out our Patreon page here.
Despite a short life span, the Game Boy Advance had no shortage of quality games. With the help of our Patreon supporters we dug through every game in the GBA library until we finally decided on this list. Due to the huge quantity of amazing games on the platform, plenty of great games come up just short of our fifteen game cut off.
What do you think? Did your favorite game make the list?