Lateral thinking of seasoned technology.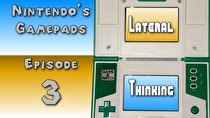 In this episode John dives deeper into the work of Gunpei Yokoi. Witness the genesis of dual screen gaming and asymmetrical multiplayer. See how Nintendo took limitless complexity and made it sell to casual gamers.
Nintendo's Gamepads explores the history of Nintendo's controllers. From the Color TV-Games to the Wii U, Nintendo always does something unexpected.