Not all awesome trailers need gameplay.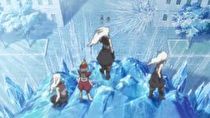 A Japanese animated trailer for Pokémon Black and White 2 has been released on the official Pokémon website.
Originally leaked on Tuesday, the video shows the plot of Black and White 2 to some extent. Notably, the video seems to confirm some return of N in the sequels, as well as the return of Team Plasma. The video also briefly showcases the player's relationship with their rival, and the return of the Shadow Triad.