Exclusive podcasts, Game nights, and a Patreon Plays recording with our patrons!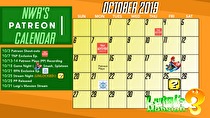 Hello readers!
Over at patreon.com/NWR we have a host of things happening every month. Check out what is on the docket for October, the spookiest month of the year!
Remember we have an exclusive Patreon Plays podcast that if you are a $5 tier or above you (yes YOU) can be on. You can get access to listen to other exclusive podcasts like Radio Free Nintendo and Talk Nintendo for just $1 a month! Please consider helping keep this site running, and take advantage of our Patreon offerings.
You can visit our Patreon to check out more!
10/3 Patreon Shout-outs
10/7 TNP Exclusive Ep.
10/13-14 Patreon Plays (PP) Recording
10/18 Game Night (MK8D, Smash, Splatoon)
10/21 RFN Exclusive Ep.
10/25 Stream Night (UNLOCKED!)
10/28 PP Released
10/31 Luigi's Mansion Stream