A Planet GameCube legend and institution has passed on.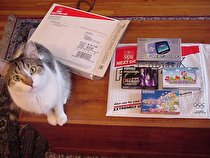 When Planet GameCube began in 1999, our founder Billy Berghammer had a little kitty named Louie that quickly became a part of the site, showing up in unboxings, working his way onto the cover of our E3 2002 DVD, and assuming the mantle of Rumors Editor. It's with a heavy heart that we at Nintendo World Report announce that Louie the Cat passed away recently. Check below for a note from Radio Free Nintendo Host/former Planet GameCube Director Jonathan Metts along with some links to some awesome Louie content.
It's a strange thing to say goodbye to someone else's pet. I knew Louie the Cat for over 13 years through photos, articles, and most of all, through my friend Billy. It doesn't make logical sense to showcase your cat on a Nintendo website, but his eagerness to do so created an early Internet celebrity. As our site's mascot, Louie became one of the most famous felines on the web until Grumpy Cat came along. When we needed a Quarterman-style character to anonymously write rumor articles, it just seemed natural to give Louie free reign over the keyboard. That's how he became our first and only non-human staff member, complete with his own profile page that still indexes most of his articles. The early rumor sheets were a bit hard to read (perhaps inspired by JeffK's body of work), so we eventually sent Louie to grammar school. You can probably guess that's when I started to contribute to his articles, though much of the writing was still handled by guys like Billy and Max Lake. Among the staff, there was a sense of communal ownership of Louie's online identity, and I think that's the reason I started to feel a strong connection with the real Louie, who I'd never met.
Our first and only real-world encounter occurred many years later, when I got to visit Billy's L.A. apartment during a trip to E3. There was Louie, in the fur, jumping onto the couch to let me scratch his ears. For the kitty, this was just another chance to get attention from an unknown visitor. I stood there in teary-eyed disbelief that this could be the real Louie the Cat nuzzling my hand. He never knew how famous he was, or what he represented to a few of us old-timers. While our website has felt old and distinguished for quite a while, Louie continued to exist as his playful, youthful, naive self. For me, he will always represent the innovation and enthusiasm of our founder, as well as a special time in my life when I felt part of something productive, outlandishly popular, and completely independent. While all pets and their owners eventually pass, Louie has a unique kind of immortality as long as this website continues, and even far beyond that in the hearts and memories of those who knew and viewed him even from afar.
Meow