Could the Dark Knight's next escapade involve other members of the Justice League?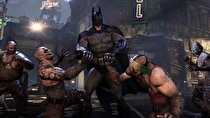 Batman Arkham Origins is a Silver Age-inspired prequel and could be revealed at this year's E3, a recent report suggests.
Unnamed industry sources purportedly told French outlet Gameblog that the third instalment in the popular Arkham series, once again in development at Rocksteady Studios, will take place before the events of the previous two games in a story linked to the Batman comics of the 1950s and '60s. In addition, fellow Justice League of America members Superman and Green Lantern are said to be involved in the game.
The source also claims that the game will be released in Q3 2013. Although none of these game details have been confirmed, publisher Warner Bros. Interactive Entertainment did state in a recent investor's briefing that a new Batman Arkham title would be out before the end of the year.
Batman Arkham City: Armored Edition, the previous entry in the franchise, was released at the launch of the Wii U in November 2012.