The beans may have been spilled in Chile.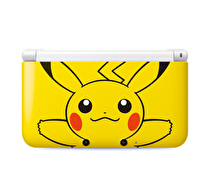 A Limited Edition Pikachu 3DS XL and a Pokémon Meloetta distribution event may be headed to the Americas this March.
This news supposedly comes from Nintendo's official South American distributor, JVL. JVL apparently attended a fan created Pokémon event in Chile where they made these announcements.
Chile is part of South America, but their 3DS systems have the same region locks as those in North America. Additionally, Nintendo of America handles business decisions throughout all the Americas giving hope to those living in the Northern Hemisphere.
Adding to this rumor is that Zmart.cl, an online retailer in Chile, currently has the Pikachu 3DS XL up for pre-order. The image of the box they have on display for the item doesn't appear to directly match the Japanese or European versions.
While this news has yet to be confirmed by Nintendo of America, the timing would make sense since Pokémon Mystery Dungeon: Gates to Infinity will be released for the 3DS on March 24th.