Pre-orders might start on the day of The Last Story's release in June, according to a GameStop manager.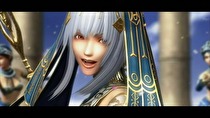 Pandora's Tower is coming to North America, according to an audio recording of a conversation with a GameStop manager from NinTemple.
We're currently seeking to independently verify this news (feel free to send in your own findings to us). The recording explains that an internal GameStop message told employees to mention The Last Story and Pandora's Tower to customers when they picked up Xenoblade Chronicles last Friday. It also said that pre-orders for Pandora's Tower will begin in June when The Last Story comes out.
However, the recording also presents some contradictory comments, saying that "a company" picked up the rights to all three Operation Rainfall games and is putting them out one after the other. It can be assumed the company in question is Xseed, but they are only confirmed to be publishing The Last Story. Nintendo of America published Xenoblade Chronicles in North America.
Additionally, the GameStop manager says both games are GameStop exclusives. Once again, one of the games is (Xenoblade) while the other (The Last Story) is set to be a wide release.
Signs are looking good for prospective Pandora's Tower fans, but there is still no 100% confirmation that the game is coming to North America.