The surreal Dreamcast classic might be headed to the handheld.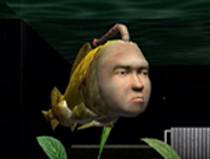 A port of the virtual pet simulation game Seaman might be on its way to the 3DS, according to an article in the online edition of Japan's Nikkei business newspaper.
The article, which focuses on Nintendo, mentions an initiative on the part of the company to revive other publisher's titles on the 3DS in order to provide the system with stronger games, and cites Seaman, one of the best-selling Dreamcast games in Japan, as an example.
Series creator Yoot Saito hinted at the possibility of a Seaman game on 3DS in June of 2010 as part of an exchange with a Twitter follower.