A new LEGO Batman game may be in development featuring other DC characters.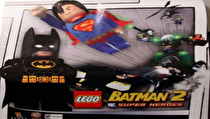 A recently revealed image is supposedly teasing Travellers Tales' newest LEGO game, LEGO Batman 2: DC Super Heroes.
The image contains both the rumored game's logo as well as LEGO representations of various DC characters. So far, the game is apparently featuring Superman, Wonder Woman, Green Lantern, and Lex Luthor. Assuming the game's DC Super Heroes theme is true, it is expected there will be a slew of other heroes and villains from the DC Universe.
With an expected 2012 release, it can be predicted that the title may launch alongside the new Batman movie, The Dark Knight Rises.