A cryptic message from Aksys either hints at an announcement or is part of a cruel April Fool's prank.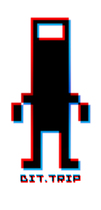 A message from Aksys Games, publisher of the Bit.Trip series, hints at major 3D-related announcement for the series.
The message was titled "A Message from CommanderVideo" and contained the image to the right with the filename "BTS3D.jpg." The image shows Bit.Trip mascot, CommanderVideo, with the telltale red and blue outline that characterizes anaglyphic 3D. The only text was "...more details coming soon?" and a reference to the attached image.
While this could indicate the impending announcement of a 3DS title featuring CommanderVideo, it is also possible that it is one of the many April Fool's Day pranks that are sent out every April 1.