Spring Man 2017 - 2017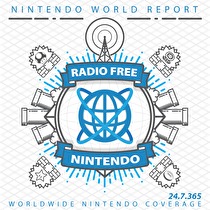 Subscribe via iTunes (Please rate and review, too!)
This week is the podcast-equivalent of a stay-cation. We had to record a Patreon episode (Say it with me now, "Patreon dot com slash N W R") and we had done two double-stuffed episodes in a row. So this week we recorded a short email-only episode. This week we try to determine if Smash a marketing tool and grade the Switch as its third birthday approaches.
Here's the part where I put the plugs:
Emails go here.
Thoughts on our upcoming RetroActive for Rhythm Thief go here.
This episode was edited by Guillaume Veillette. The "Men of Leisure" theme song was produced exclusively for Radio Free Nintendo by Perry Burkum. Hear more at Perry's SoundCloud. The Radio Free Nintendo logo was produced by Connor Strickland. See more of his work at his website.
This episode's ending music is Newborn [Hybrid] from The World Ends With You. Composition by Takeharu Ishimoto. It was requested by Cesar. All rights reserved by Square Enix Co., Ltd.; CMRRA