Who needs PR when you can get PE?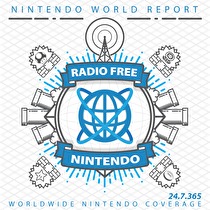 Subscribe via iTunes (Please rate and review, too!)
Jon's off this week, so we carry on with just the three of us. Thanks to time zones, Greg has some early impressions of Super Mario Maker 2, which was set to come-out as we finished recording this episode. James has been taking advantage of the Xbox Game Pass upgrade with impressions of Doom, Sea of Thieves, and NHL 19. He's not great at any of the above. Guillaume closes the book on Xenoblade Chronicles 2, and remains indecisive on if he likes it or not.
After the break, we take a stab at a trio of emails. This week we: figure out why Final Fantasy V isn't more of a thing, talk about the legacy of the 3DS, and provide an impromptu RetroActive on The Conduit. Did we replay it? Hell no! You can send us an email here.
This episode was barely touched by Guillaume Veillette. The "Men of Leisure" theme song was produced exclusively for Radio Free Nintendo by Perry Burkum. Hear more at Perry's SoundCloud. The Radio Free Nintendo logo was produced by Connor Strickland. See more of his work at his website.
This episode's ending music is Fillmore from ActRaiser. It was selected by Greg. All rights reserved by Square Enix Holdings Co., Ltd.