After conferring with its medical staff, RFN was not able to clear James Jones for this episode. Fortunately, Jon steps in to host with Syrenne as a guest and absolutely nothing goes wrong. Nope, nothing at all...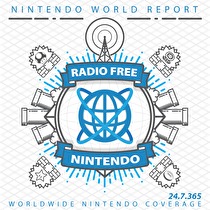 Subscribe via iTunes (Please rate and review, too!)
James lost his voice, so Jon takes the reigns of this week's RFN. Stepping in to take James' place is none other than friend of the podcast and all-around rabblerouser Syrenne McNulty. New Business gets predictably anime right off the bat as she looks at a series of STEINS;GATE games, Catherine: Full Body, Ace Attorney Trilogy, and Kingdom Hearts III. Following a series of awkward silences and uncomfortable grunts from the group, Gui wraps up his thoughts on Anodyne and gives us a quick take on twin-stick shooter Assault Android Cactus. Greg then takes a look at retro platformer Kero Blaster, and Jon finishes up with a platformer of his own, the beautiful GRIS.
Listener mail gives us a trio of interesting questions including which games we feel show "what Nintendo is all about", what's next for Capcom on Switch, and why Switch game prices are so high versus their counterparts on other consoles. You can pay a premium in more ways than one by dropping an email in our inbox.
This episode was edited by Guillaume Veillette. The "Men of Leisure" theme song was produced exclusively for Radio Free Nintendo by Perry Burkum. Hear more at Perry's SoundCloud. The Radio Free Nintendo logo was produced by Connor Strickland. See more of his work at his website.
This episode's ending music is L'Impeto Oscuro from Kingdom Hearts 3D Dream Drop Distance. Composition by Yoko Shimomura. It was selected by Syrenne, like you had to ask. All rights reserved by Disney/Square Enix.