Daisy is finally playable in Super Smash Bros. She's been at play in the NWR forums for years. You do the math.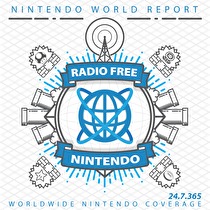 Subscribe via iTunes (Please rate and review, too!)
Fresh off the E3 2018 Nintendo Direct, the RFN Crew assembles to give their thoughts on the news stories of the day. Jon, Greg, and Gui call in from home, while James stumbles in glassy-eyed from the show floor to record in hushed tones from the LACC Media Center. He has to cut out a bit early for a publisher appointment, but I think we can all agree that 50 minutes of James Jones is worth nearly an hour of any mortal man.
Our show begins with a rundown of every game shown at the Direct, along with a more in-depth discussion and hands-on impressions of one you might have heard of: Super Smash Bros. Ultimate. We then talk about third-party games announced for Switch over the last few days, and finish off with our overall impressions of Nintendo's presentation, as well as Sony's and Microsoft's efforts. Overall, we'd probably just rather go play Fortnite (now with voice chat, because who needs an app?).
Now that Nintendo has pulled the curtain back on its E3 showing, we're sure that you have burning questions such as, "What does James' hand look like with a Pokeball Plus in it?" We can answer all that and more if you'd kindly send us an email.
PROTIP: if we reply, you may want to block images.
This episode was edited by Guillaume Veillette. The "Men of Leisure" theme song was produced exclusively for Radio Free Nintendo by Perry Burkum. Hear more at Perry's SoundCloud. The Radio Free Nintendo logo was produced by Connor Strickland. See more of his work at his website.
This episode's ending music is Nemesis Ridley (Metroid Other M), from Super Smash Bros. for Wii U. All rights reserved by Nintendo.