We habitually say things that aren't true; sometimes we know it.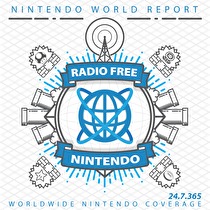 Subscribe via iTunes (Please rate and review, too!)
While planning this week's episode, we quickly determined that nobody had much New Business going on and the segment was doomed to be boring. A change was in order! While another mailbag-only episode may have been a perfectly acceptable solution, a revisiting of the 20 Questions format gives the show an extra dimension.
Four emails this week cover: how long Nintendo can wait to announce a Switch port of Smash Bros.; how Nintendo dodged the stink of Pokémon GO Fest; what other Nintendo games could be made into VR experiences; and what portable-only experiences are made possible by Switch. Between each email we play a round of 20 Questions. Coming into the episode we've successfully guessed all previous games. Do we manage to keep the streak going? You can send your 20 questions (or just one) to our inbox.
Some news this week: we're going to take next week off. It's been a while since our last vacation, and giving us a week apart will allow us to come back with a newfound appreciation for one another, full of the piss and vinegar you know and love. So far, our next RetroActive game, Super Mario Sunshine, has been doing a good job fueling us. To that end, we'll be recording our RetroActive on August 24, so get your comments in via the inbox or in the talkbalk thread.
This episode was edited by Guillaume Veillette. The "Men of Leisure" theme song was produced exclusively for Radio Free Nintendo by Perry Burkum. Hear more at Perry's SoundCloud. The Radio Free Nintendo logo was produced by Connor Strickland. See more of his work at his website.
This episode's ending music is Treasure Town from Pokémon Mystery Dungeon: Explorers of the Sky. It was requested by NWR's Adam Abou-Nasr. All rights reserved by Nintendo Co. Ltd.