It's always best to give with an audience.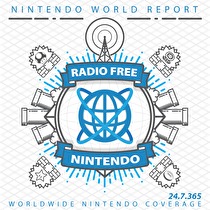 Subscribe via iTunes (Please rate and review, too!)
We introduce a new feature to Radio Free Nintendo this week: Email Update! We start the show with some news on previous Listener Mail questions, in an effort to keep our audience abreast of all the goings on in Nintendo land. Stay tuned to see us forget to ever do this segment again.
Following these timely updates, it's New Business. James kicks it off with a look at recently-on sale Snake Pass for Switch. Often accused of being a snake, James finds that these past aspersions were highly inaccurate. Being a snake has never been more difficult. Jon has a very early look at the new Legend of Zelda: Breath of the DLC...DLC, The Master Trials. Jon also got to use this DLC to reflect on his past choices navigating Zelda. These aren't the choices needing self-reflection, but we're hopeful this will establish healthy habits. Guillaume has also been playing Zelda! He finished off Oracle of Ages and then moved onto Link to the Past. However, the real treasure of this segment is an oddly-placed riff on My Nintendo. Free Swapdoodle stationary now available. Greg polishes the brass...chin with ARMS. An update on his previous report from the competitive hand-flinging simulator, he's pretty convinced he's found his ceiling. I too have found my ceiling, trying to come up with another body part pun.
Following a short snippet of Perry Burkum music, it's time for Listener Mail. This week we cover: if the European SNES Mini is 50 or 60hz for unpatriotic Americans who want to defect from their home's SNES, circumnavigating our backlog like 16th Century explorers, and what will be left for Nintendo to publish in 2019. You to can give us a window to talk about Scores (NSFW) by sending us an email.
This episode was edited by Guillaume Veillette. The "Men of Leisure" theme song was produced exclusively for Radio Free Nintendo by Perry Burkum. Hear more at Bluffs Custom Music's SoundCloud. The Radio Free Nintendo logo was produced by Connor Strickland. See more of his work at his website.
This episode's ending music is Jergingha - Planet Destruction from Wonderful 101 (via Super Smash Bros. for Wii U). It was selected by Greg. All rights reserved by Nintendo Co. Ltd.