The killer app for Switch!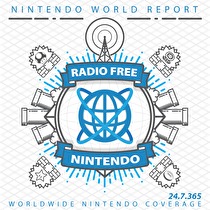 Subscribe via iTunes (Please rate and review, too!)
Last week's all-new New Business gives way this week to a collection of older titles, along with more Zelda chatter. The sole exception to this trend is Splatoon 2, as we kick off the segment with talk of the the Global Testfire. Both Greg and James got time with the ink-splattering server test, and offer their thoughts based on an hour of gameplay. Guillaume did some reverse-fridge cleaning, getting his DSiWare safely to his 3DS, just before the DSiWare Shop closes forever. Much like any other experience in a Nintendo digital store, it was nightmarish. He also has some fairly early thoughts on Pokémon Moon. Jon kicks off another round of Zelda chatter, this time with a bit less restraint on spoilers; but not full-blown spoilercast territory, as Gui still is working though the game. James wraps up with a brief mention of his convenience-fueled impulse purchase Stella Glow. Succinctly, it's an anime strategy game on 3DS that's not doing anything special for him.
Listener Mail is limited to two questions this week, but both spur some lengthy discussions. First up, RFN is asked to summon our strangest cross-overs and spin-offs in gaming. Our second email asks our opinion of Nintendo's revised 16 million Switch forecast. We start on that topic, but somehow keep returning to the delicious topic of brisket. You can cut your own slice of chest meat by sending us an email.
This episode was edited by Guillaume Veillette. The "Men of Leisure" theme song was produced exclusively for Radio Free Nintendo by Perry Burkum. Hear more at Bluffs Custom Music's SoundCloud. The Radio Free Nintendo logo was produced by Connor Strickland. See more of his work at his website.
This episode's ending music is Mysterious Invaders from Kid Icarus: Uprising. It was composed by Yuzo Koshiro and selected by Greg in honor of the 3DS title's Fifth Anniversary. All rights reserved by Nintendo Co., Ltd..