It's all Switch and Breath of the Wild this week, except for a visit from our box friend.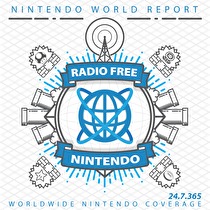 Subscribe via iTunes (Please rate and review, too!)
Since we recorded last week, Nintendo released both the Switch and The Legend of Zelda: Breath of the Wild. Jon, James, and Greg all have the new console, and the entire RFN panel has the new game. We devote our first segment to the former, and our second segment to the latter (and we try to be as spoiler-free as possible, but be advised if you're going complete Zelda media blackout).
Meanwhile, it's time for RetroActive! Again! James declared us due for a second helping of retro gaming for some strange reason, and now here we are! You can send us your suggestions for a theme, or questions and comments, to our mailbag.
This episode was edited by Guillaume Veillette. The "Men of Leisure" theme song was produced exclusively for Radio Free Nintendo by Perry Burkum. Hear more at Bluffs Custom Music's SoundCloud. The Radio Free Nintendo logo was produced by Connor Strickland. See more of his work at his website.
This episode's ending music is Zora's Domain (Night) from The Legend of Zelda: Breath of the Wild. It was requested by Hendrik. All rights reserved by Nintendo Co., Ltd.