A listener's letter reveals a dark truth: We, you and I, are our own jailors in the prison that is Radio Free Nintendo.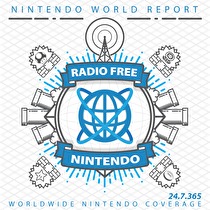 Subscribe via iTunes (Please rate and review, too!)
Jon was unprepared for a harsh revelation, and is potentially still hungover from our ultra-exclusive Episode 500 party. He was the only cast member invited. We're not bitter.
Greg, Gui, and James soldier on with New Business. Greg starts us off with thoughts on Picross 3D Round 2 (it's more Picross), F-Zero X on the Wii U VC (they fixed it), Shovel Knight (Plague Knight should be interesting), and Pokémon Sun/Moon postgame. Guillaume explores PC adventure game Read Only Memories, the game that dares to envision a future San Francisco that is more San Franciscan than the current one. He then gives an update on Paper Mario: Color Splash. James starts his New Business with a quick thought on setting up his AV setup to accommodate his new PS4, and very early thoughts on Middle-earth: Shadow of Mordor. He then returns to his Japanese import products with Game Center CX: Arino no Chousenjou 2. Guess what? That game's really hard in Japanese. It might be time to turn to the translation patch.
This week Listener Mail doubles as a way to cover the latest Nintendo news. We have questions about the rumored Virtual Console upgrade plan for Switch and the GameCube VC, the Switch demo on The Tonight Show and a potential Zelda delay, and an observant listener who noticed two conspicuously similar video game tracks, which is also how we end our show! You can help us combine two or three show segments by sending us an expertly-crafted email.
This episode was edited by Guillaume Veillette. The "Men of Leisure" theme song was produced exclusively for Radio Free Nintendo by Perry Burkum. Hear more at Bluffs Custom Music's SoundCloud. The Radio Free Nintendo logo was produced by Connor Strickland. See more of his work at his website.
This episode's ending music is Unused Sound Test 10 from Sonic the Hedgehog 2 and Minish Village theme from The Legend of Zelda: The Minish Cap. They were requested by Colin. All rights reserved by Sega Games Co., Ltd. and Nintendo Co., Ltd. respectively.