Hear the full story of how trivia guru "WindyMan" went from answering a competitor's mailbag to becoming Nintendo World Report's leader during Wii launch mania and a prolonged website redesign.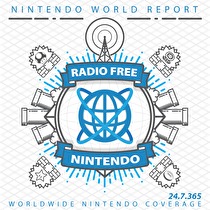 Subscribe via iTunes (Please rate and review, too!)
Welcome to a series of special podcasts, hosted by your friends at Radio Free Nintendo. Former podcast host and website director Jonathan Metts is sharing his extensive interviews with current and former staff members from Nintendo World Report [the very site you are now reading, which is also still widely known as Planet GameCube (which is one of the long-term prices we've had to pay for the privilege of changing our name at the peak of our popularity).] These interviews are part of his research for an upcoming book about the long-running website, focusing on its vast array of dedicated, all-volunteer creators. This paragraph is painfully thorough because I want to reuse it for each subsequent release from this series, which is planned to continue throughout 2016 (and now 2017)!
This interview features Steven Rodriguez, also known as "WindyMan". It's the first book interview with a Director, the highest position at our website. Steven took over for myself in late 2006 and was replaced in early 2009, so we get into lots of details about everything happening around that time, including the Wii launch, redesigning our site as Nintendo World Report, and even the 2008 financial crisis. Other stories include Steven's early days at Nintendo Nation, becoming Planet GameCube's trivia guru, serving up scoops as News Editor, testing games for THQ, and covering the infamous E3 2007 -- solo!
If you haven't already, subscribe to Radio Free Nintendo with the links above to automatically receive all upcoming interviews in this series.