When Nintendo 64 walks into a room, all of Super Famicom's friends leave.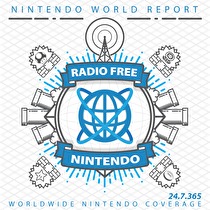 Subscribe via iTunes (Please rate and review, too!)
Welcome back to Radio Free Nintendo. James has returned from his expedition to Japan an enlightened man. Just a week before episode 500, he has a lot of work to do to get back into form for the big episode. This week is a good start, retaking the reigns and putting the show exactly where it belongs: the ditch.
James kicks off New Business bearing gifts for his co-hosts. He then expands on his thoughts from the latest Famicast episode during which he talks about his trip to Japan. Although jet-lag, a cold, and an unhealthy dose of cough syrup conspire to render this segment insufferable, James is adamant - he does not need help on that front. Jon and Greg are the Sun and the Moon of Radio Free Nintendo (Guillaume is the star, if you're wondering), so it's apt that they are playing Pokémon Sun and Moon, respectively. Expanding on Alex Culafi's comments, the two give some early thoughts on their quest to be the best. Gui wraps up New Business with a look at Paper Mario: Color Splash. Replete with charm, witty writing, and captivating humor, this is the ultimate charming game for the ultimate charming gamer.
After the break we tackle a trio of Listener Mail. Topics include Nintendo Hard Girls, making Super Mario Maker even more super, and how to build on the success of NES Classic Edition. You can have us cast the next Gamindustri adventure by sending sending us an email. Remember, next week is 500, so get us your comments ASAP if you want to hear them on the show.
This episode was edited by Guillaume Veillette. The "Men of Leisure" theme song was produced exclusively for Radio Free Nintendo by Perry Burkum. Hear more at Bluffs Custom Music's SoundCloud. The Radio Free Nintendo logo was produced by Connor Strickland. See more of his work at his website.
This episode's ending music is Seasonal Beauties from Muramasa: The Demon Blade. It was composed by Noriyuki Kamikura and requested by James. All rights reserved by MarvelousAQL Inc.