All games should be pinball games.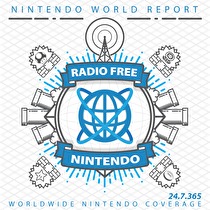 Subscribe via iTunes (Please rate and review, too!)
The NFL season is in full-swing, so Greg had to take a sabbatical in order to observe the proceedings. The outcome was predictable. In his stead we are joined by Dr. Jonathan Metts, giving this episode a very 2014 sort of feel.
The good doctor starts New Business with impressions of Picross 3D Round 2, the block-eliminating, life-consuming puzzler. Jonny is in deep, and he's going to need to chisel his way out. He then shares thoughts on RIVE, the final game from Toki Tori developer Two Tribes. He's having a lot of fun with the PS4 version, and with a Wii U version on the way it's worth keeping an eye on. He concludes his New Business with a look at Nesbox, an NES emulator officially available on the Windows 10 store and Xbox One. Meanwhile, Jon assesses the validity of Metroid experiences with his thoughts on Metroid Prime Pinball for Nintendo DS. Is this the best Metroid game in decades? Yes. As we established in last week's Listener Mail, Guillaume is getting old so he now hates games; as a consequence he also hates Mega Man Legends on the PlayStation. Okay, "hate" is a strong word, but he has thoughts on the downside of towns in 3D games. James concludes New Business with a statement on Phoenix Wright: Ace Attorney - Spirit of Justice, before turning his full attention to his recent upgrade to a New 3DS (regular).
After the break, it's Listener Mail. This week's topics include: release date delays, homebrew and piracy on 3DS, and storytelling in gaming. You can have us brew you a story via our inbox.
We have a winner in our RetroActive Open World poll: LEGO City: Undercover! We'll open up the comment thread soon. We don't have a date for this one, but it will be at least a few weeks. We'll be taking next week off, so we should have a date to announce when we return, but don't wait for us to get started.
This episode was edited by Guillaume "I'm Not Angry, I'm Disappointed" Veillette. The "Men of Leisure" theme song was produced exclusively for Radio Free Nintendo by Perry Burkum. Hear more at Bluffs Custom Music's SoundCloud. The new Radio Free Nintendo logo was produced by Connor Strickland. See more of his work at his website.
This episode's ending music is Southern Island (Sunny) Theme from Wave Race Blue Storm. It was requested by Greg in honor of the 15 year anniversary of the GameCube's Japanese launch. All rights reserved by Nintendo.