While the cat's away, the doctor will…talk on a podcast, obviously.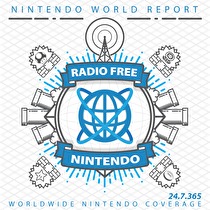 Subscribe via iTunes (Please rate and review, too!)
With the dog days of summer drawing to a close, it was time for the RFN team to take some time off this week, but Greg decided to use this occasion as an excuse to get back in touch with an old friend: Dr. Jonathan Metts. It's now been a year since Jonny stepped down from his duties as RFN host, and so the conversation begins with a look at how his much-anticipated NWR book project has been progressing, and also how his gaming habits have changed over the past twelve RFN-free months.
Next, Greg solicits Jonny's thoughts and opinions on a multitude of gaming topics, including The Legend of Zelda: Breath of the Wild, Star Fox Zero, Dragon Quest VII, ReCore, and of course No Man's Sky, the spacefaring PS4 exclusive that Jonny's had his upturned eyes on for some considerable time now. Also in the "Entirely Predictable" column: Metroid looms large in the conversation, with the impending launch of Federation Force, the passing of the 30th anniversary of the franchise's debut, and the emergence of AM2R—a fan-created, Zero Mission-style remake of Metroid II: Return of Samus that's made quite an impression in a short period of time. Finally, Greg can't let Dr. Metts go without picking his brains on all those NX rumours that have been dominating the Nintendo news scene of late, and their implications for the future of the company he's spent half his life covering online.
Normal service resumes next week; if you have a question that isn't for Dr. Metts, please send it to us in an email.
This episode was edited by Greg Leahy, with the publication assistance of James Jones. The "Men of Leisure" theme song was produced exclusively for Radio Free Nintendo by Perry Burkum. Hear more at Bluffs Custom Music's SoundCloud. The new Radio Free Nintendo logo was produced by Connor Strickland. See more of his work at his website
This episode's ending music is The Singing Mountain from Chrono Trigger. All rights reserved by Square Enix.