I thought Nintendo was above making licensed games.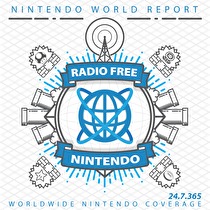 Subscribe via iTunes (Please rate and review, too!)
Last week, we gave our E3 reactions; this week we return to our standard show format. James kicks off New Business with a game Nintendo doesn't want you to know about: Rhythm Heaven Megamix. As a big fan of the series, James found his flow quickly, but Greg is around to allay some of his fears. Greg has concluding thoughts on Fire Emblem Fates: Conquest. Did being the tool of a monster ruin the experience for him? It hasn't for nearly a decade of RFN. Jon continues the strategic thinking with his Non-tendo Game of the Week: the beta of Halo Wars 2. Warthogs not getting stuck on every pebble may take you out of the Halo experience, but Jon may have found his inner tactician. Lastly, Guillaume concludes the segment with yet another assault on Castlevania, with Castlevania: Order of Ecclesia. Shockingly, picking up a nearly decade-old save did not yield the most positive experience.
After the break, we get down to our first post-E3 Listener Mail segment. Topics covered: self-induced blackouts, movie puns, the dumbing down of the university system, developer vs. publisher vs. BUSINESS, Tomodachi Life: The Movie - starring YOU, and an email picked exclusively to let us use the NX alarm. You can trigger our alarms by sending us an email.
This episode was edited by Guillaume Veillette. The "Men of Leisure" theme song was produced exclusively for Radio Free Nintendo by Perry Burkum. Hear more at Bluffs Custom Music's SoundCloud. The new Radio Free Nintendo logo was produced by Connor Strickland. See more of his work at his website
This episode's ending music is Road Taken from Fire Emblem Fates. It was requested by ClexYoshi. All rights reserved by Nintendo.