Things get real on the latest interview in this special podcast mini-series.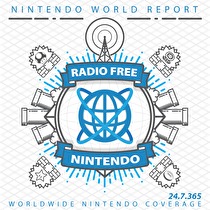 Subscribe via iTunes (Please rate and review, too!)
Welcome to a series of special podcasts, hosted by your friends at Radio Free Nintendo. Former podcast host and website director Jonathan Metts is sharing his extensive interviews with current and former staff members from Nintendo World Report [the very site you are now reading, which is also still widely known as Planet GameCube (which is one of the long-term prices we've had to pay for the privilege of changing our name at the peak of our popularity).] These interviews are part of his research for an upcoming book about the long-running website, focusing on its vast array of dedicated, all-volunteer creators. This paragraph is painfully thorough because I want to reuse it for each subsequent release from this series, which is planned to continue throughout 2016!
This interview features Max Lake, the last Editor-in-Chief of our website. Max left his fingerprints all over early-era Nintendo fansites before landing at ours. You'll hear many detailed stories, including how he leaked the Super Smash Bros. Melee secret characters, writing rumors for Louie the Cat, and that time we got bad service at Denny's. There's a thorough account of another writer's infamous, embarrassing "Miyamoto-Sama" incident... redemption included. We also dug into the troubled saga of Max's E3 2001 video to understand what went wrong, and how the aftermath led to the end of Max's tenure at PGC and the beginning of longstanding personal problems. He doesn't withhold regrets or complaints, but we both explored this painful part of his life in the hope of finding silver linings and even reconciliation.
By the way, the entire E3 2001 video is now viewable as a playlist on our NWR TV channel on YouTube.
If you haven't already, subscribe to Radio Free Nintendo with the links above to automatically receive all upcoming interviews in this series.