It's fine to be enthusiastic about your work, but stop shooting the walls.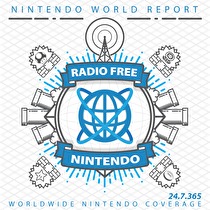 Subscribe via iTunes (Please rate and review, too!)
The prophesy has been realized, at the Four-Hundred Fiftieth Transit of the Podcast Moon against the face of the Release Planet a fifth shall descend upon them.
Dr. Metts joins James, Jon, Greg, and Guillaume to celebrate Episode 450. As celebration, James planned a totally conventional episode, featuring New Business and a conversation about the latest NX rumors!
As a guest, Jonny leads of with a review of what he's been doing with his newly-found free time. He's just started Yoshi's Woolly World, but he teams up with Gui and Greg to school James and Jon on getting fluffy. His thoughts on Rock Band 4 trigger a conversation of the broader ecosystem of plastic instruments. Guillaume has impressions of Indie ghost-killing, time replaying, game Extreme Exorcism. It turns out anything worth doing is worth doing EXTREME. Jon returns to PS2-classic Shadow of the Colossus.The crew uses this opportunity to shamble up the topic of focused game design and what makes these games work in their own way. Greg is also engaged in an exorcism, with the GBA Virtual Console kart racer Konami Krazy Racers. Remember when Konami wasn't above using their fantastic back-catalog, in unconventional ways, in order to make a buck? Don't answer that. Lastly, James provides an update on The Legend of Legacy. This update mostly comes in the form of a verbal GameFAQ; prep your tank character.
After a creepy Now Playing, the fivesome dissects the latest NX news, as reported by The Wall Street Journal. Development kits are out, new chips are in, and a normally verbose podcast finds a new level of verbosity and naval gazing.
After a two week break, we're returning to Listener Mail next week. It's been a while, so fire up your email and send us your comments or questions. We're especially interested in your thoughts about our NX conversation and the future of the Nintendo ecosystem.
Lastly, we're refreshing the logo we use to promote Radio Free Nintendo. Send your submissions to our mailbag. Note, all submissions must be scalable to at least 1400x1400 pixels. We've already got a number of cool ideas; you guys are awesome.
This episode was edited by Guillaume Veillette. The "Men of Leisure" theme song was produced exclusively for Radio Free Nintendo by Perry Burkum. Hear more at Bluffs Custom Music.
This episode's ending music is the Special Course theme from Yoshi's Woolly World.The game's music was composed Tomoya Tomita and Misaki Asada. All rights reserved by Nintendo.