There is a new king at Royal Tennis Academy. Long live the King!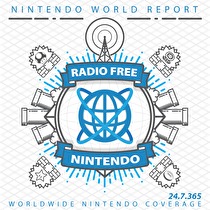 Subscribe via iTunes (Please rate and review, too!)
New 3DS games (new, 3DS, games - not New 3DS games) dominate New Business this week. Jon doesn't have anything to talk about, and yet the segment still runs to full time. James kicks it off with a look at 3DS JRPG Legend of Legacy - think Etrian in third person - and we all know how much James loves Etrian. Greg has impressions from 3D Sonic the Hedgehog 2. Finally, a good Sonic game in 3D! Guillaume talks briefly about his one-night stand with Rocket League on PS4, and helicopters his plug cord to wrap up New Business with Chibi-Robo Zip Lash.
After the break, it's time for the first RetroActive of RFN Season 5: Mario Tennis: Power Tour for the GBA. The crew spent most of their time in the story mode, a feature of Camelot's handheld sports titles. Conversation covers the world building, parallels with later sports RPG series, the tutorial structure (or lack there of), and the surprising depth built into what one might expect to be a Mario-branded cash in. However, it takes a guest, former Nintendo Pirate Radio host Stan Ferguson, to clearly elucidate what makes Mario Tennis: Power Tour a game worthy of holy matrimony.
Next week is Episode 450 and we're working to celebrate the milestone episode in the new, mature, sensibilities of Season 5. You can send us your comments or questions to our mailbag.
Additionally, Radio Free Nintendo is looking to make a new logo. If you have any ideas, feel free to send them to our mailbag. It needs to be scalable to at least 1400x1400 pixels, as per iTunes specifications.
Lastly, thanks to Michael "TYP" Cole for having James on the latest episode of Radio Trivia, Episode 138: Just Blame Lindemann Syndrome. It's a fun show, so if you're not a regular listener give it a shot.
This episode was edited by Guillaume Veillette. The "Men of Leisure" theme song was produced exclusively for Radio Free Nintendo by Perry Burkum. Hear more at Bluffs Custom Music.
This episode's ending music is the Match Point music from Mario Tennis: Power Tour. It was composed by Motoi Sakuraba. All rights reserved by Nintendo.