The Super Mario Maker circle is complete and we reveal the winner of our Mario Maker-inspired RetroActive poll.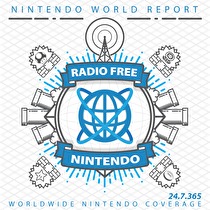 Subscribe via iTunes (Please rate and review, too!)
Radio Free Nintendo is back at full strength, and Jon gets his first opportunity to talk Mario Maker, but first in New Business Guillaume talks about the demo for the Atlus-published 3DS game redundantly titled Legend of Legacy. Not to spoil it but it looks like his pre-order is safe. Next James and Greg talk about Plague of Shadows, the recently-released addition to last year's outstanding retro-focused action title Shovel Knight. As it turns out, it would be a pretty great value even if the price wasn't free. Finally, New Business turns back to the act of Making Marios. Jon has some early thoughts, having only had limited time to dig in, but the rest of the team has more thoughts to build on last week's conversation.
After the always-ill advised Now Playing break, Radio Free Nintendo makes a triumphant return to the recently-neglected mailbag. Questions address what games to give a skilled - but not yet literate - child to play; the role of new Nintendo CEO Tatsumi Kimishima; GameCube emulation on Wii U; and the troubles of living free and easy in a world full of HR representatives. We love your questions, so keep sending them to the mailbag.
It's time for RetroActive Jr! The "winner" of our impossibly close poll was Mario Tennis: Power Tour! You can start playing with us right away and post your thoughts in the forum thread, and maybe we'll read them on the air.
This episode was edited by Guillaume Veillette. The "Men of Leisure" theme song was produced exclusively for Radio Free Nintendo by Perry Burkum. Hear more at Bluffs Custom Music.
This episode's ending music is the main theme of Star Fox. It was composed by Hajime Hirasawa All rights reserved by Nintendo Co., Ltd. It was suggested by Greg.