Crouching Squid, Rolling Thunder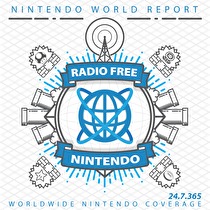 Subscribe via iTunes (Please rate and review, too!)
We recorded this episode much earlier in the week than normal, and we had to keep it fairly short as a result. However, doing it this way allowed James to participate after all (he hadn't left for his trip quite yet), and the lack of preparation time allowed us to focus entirely on the Splatoon Global Testfire, as well as extended thoughts on the game in general. We also squeezed in a Thunder Round of emails before the end. In keeping with this short and straightforward episode, here are the raw show notes that we used for the recording.
---
Intro - Early show, so limited New Biz and a quick Thunder Round coming up. But first...
All - SPLATOON TESTFIRE
BREAK - NOW PLIZZAYING
LISTENER MAIL THUNDER ROUND - rfn@nwr
------------
Brad writes:
It looks more and more like a Punch Out title is headed to either the WiiU or 3DS. Perhaps a deep look at the rest of the Smash Character roster gives us other clues? Maybe something with ROB?
Second, a friend lent me his VITA and I'm pretty amazed at that kit. Why is it the strongest system technically is often the loser in the race? Is it just a matter of cost? If a 3DS had a screen on par with the VITA, I'd lose my friggin' mind.
------------
Bally from London writes:
If we don't see Metroid, F-zero or even Advance Wars at this year's E3 does it mean that these series are all but dead?
------------
Bryant writes:
Short and sweet: Why in the year 2015 do I have to set my Wii-U and 3DS clock like a VCR? Why can't it automatically be set through the Internet like the other guys? Seriously?
------------
Pandaradox writes:
Scenario: You get to reboot Pokémon! Two questions: 1) Where in the pokédex do you trim it back to? 2) What new mechanics do you keep?
------------
Crys writes:
I have a question in regards to ethics in video gaming. When I updated my 3DS XL to the not-so-stupidly named "New" 3DS XL, I chose to not trade in my old system for a credit toward the new system. Instead I decided to utilize my old system as a sort of "StreetPass Bot" if you will. Where I have the Mii in a line green shirt with a birthday of February 29. People have told me that utilizing the 3DS in this way is cheating. What do you guys think about this?
------------
Outro - rfn@nwr
This episode was edited by Guillaume Veillette. Now Playing is produced by Jon Lindemann and James Jones. The "Men of Leisure" theme song was produced exclusively for Radio Free Nintendo by Perry Burkum. Hear more at Bluffs Custom Music.