Nintendo is going third-party -- on smart phones and tablets. We might have something to say about that.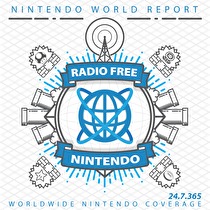 Subscribe via iTunes (Please rate and review, too!)
Every now and then, Nintendo announces something so big that we have to jump in right away. This week certainly qualifies. We flip the format and start RFN with Listener Mail, as so many of you asked us to pick apart the gigantic news of Nintendo making mobile games (and, by the way, still making a new dedicated game machine called NX). What ensues is a mixture of informed analysis, speculation, raw fear, tempered optimism, and indifference to such non-gaming matters. Predictably, we spend a lot of time on it, but there's also a follow-up discussion about spoilers and our role (as media) in preventing them. Rosebud is the sled and who cares anyway.
For New Business --after the break!-- Jonny has early thoughts on Code Name STEAM, plus a delightful disclosure for Axiom Verge. We can thank Club Nintendo for the unlikely offering of Ketzal's Corridors by Mr. Jones, while Lindy raps the praises of Sega's glory days, per 3D Out Run. Closing out the show, Guillaume finally scratches off Persona Q and falls in love with Mario Golf: World Tour, one of last year's overlooked 3DS releases.
We would love to hear more of your ideas, hopes, and concerns relating to Nintendo's seismic shift, or anything else going on in video games. That email link is free-to-play forever! And if you didn't already see it on our social media accounts (Facebook and Twitter), we are proceeding to the next RetroActive feature with renewed vigor. This one's called "Clash of the Titans" and you'll see why -- head over to the Google-based voting tool and make your preference known!
This episode was edited by Guillaume Veillette. The "Men of Leisure" theme song was produced exclusively for Radio Free Nintendo by Perry Burkum. Hear more at Bluffs Custom Music.