It's another big show as Karl joins to preview the telethon and discuss unreleased games, new games, old games, and sleeping.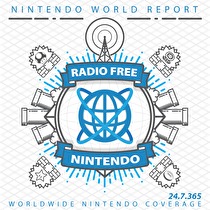 Subscribe via iTunes (Please rate and review, too!)
It's our last episode before the 5th Annual NWR Charity Telethon, so of course we brought in organizer (and former RFN host) Karl Castaneda to preview the big event. But first, he leads New Business with quick impressions of Woah, Dave!, the new game from the Bit.Trip guys under their new studio name, Choice Provisions. Karl also reports on the highly praised Shadow of Mordor from other consoles. James follows with extended impressions of Level 5's Fantasy Life, and it turns out that he and Gui are having quite different experiences with this massive game. Lindy came in a bit late, but we figured he's already suffered enough punishment by playing Lair, the ill-fated PS3 launch title from Factor 5. Guillaume takes his full turn next, trying the original Bayonetta (remastered for Wii U) and a neat little 3DS eShop title called Super Little Acorns Turbo. Jonny completes the cycle and ends his hunger strike (ha!) thanks to the long-awaited, never-certain release of both Gargoyle's Quest 2 and Demon's Crest on Virtual Console.
The second half of our show begins with Guillaume's now-annual report from Nintendo's holiday preview event in Canada. He got to play Super Smash Bros. for Wii U, Captain Toad: Treasure Tracker, and even both versions of Sonic Boom. Following that is a brief discussion about Nintendo's first revelation of their "Quality of Life" business -- it's a sleep monitor! Does this make any kind of sense for the company, and more importantly for us, will it relate to video games at all? There are few answers but plenty of speculation, for now. Finally, Karl brings us home with a point-by-point preview of next weekend's big telethon. It's our biggest event of the year, with all hands on deck from Nintendo World Report, and you should be part of the action! Just bookmark the official telethon page, donate early if you can, and be there on Saturday, November 8, 2014. You can talk with us live, win great prizes, chat with fellow Nintendo fans, and support a truly wonderful charity organization. Oh, by the way, our very first live segment on that day will be a Listener Mail round-up, so send in your questions now and let us know Saturday if you're available to do it live on the show!
This episode was edited by Guillaume Veillette. The "Men of Leisure" theme song was produced exclusively for Radio Free Nintendo by Perry Burkum. Hear more at Bluffs Custom Music.